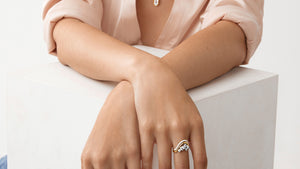 "I'm inspired by the way Rosario Navia plays with floating diamonds through her singular take on a channel setting"
ABOUT OUR FOUNDER
Inspired by her love of art and design, Rosario Navia set off to create a brand that focuses on the use of luxurious materials and sculptural designs. In 2019, she founded Rosario Navia, a Latina-owned fine jewelry brand where each piece is meticulously handcrafted and designed in New York City using high quality fine metals, precious gems, and hand sourced diamonds. She designs with a sensibility that combines modern and unexpected silhouettes to reimagine classics. With names like Charo and Fabi, her pieces pay homage to the strong Latina women who have shaped her.

Rosario has been immersed in the world of art from a young age. Born in Argentina, she emigrated to the United States at the age of ten. Since then, she has refined her passion for art and design into a craft. Rosario graduated with a BFA in Graphic Design from Miami University, later going on to become a GIA Graduate Gemologist. She had a decade-long career as a designer in New York City's creative industry spanning advertising, high-fashion, and jewelry where she developed her signature aspirational yet effortless style. Her designs have been worn on red carpets for awards ceremonies including the CMT Music Awards and Emmys and she has been featured in leading publications such as British Vogue, British GQ, and Tatler.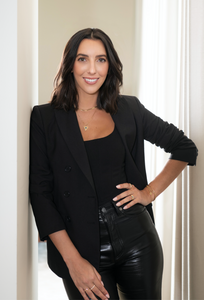 Founder & Creative director
Rosario Navia